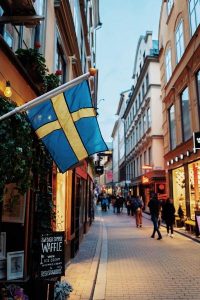 Visiting Stockholm could be the most interesting things you do when you are on vacation, working or getting invited to some event, there are lots of hidden gems to explore along with visits to museums and architecture.
For a long stay in Stockholm it is always cheaper to rent an apartment regardless if its for a short och long while, you definitely always want to stay longer to explore more parts of the city.
There are some places that you definitely dont want to miss in Stockholm.
Stockholm Subway
Stockholm has over 100 metro stations and at least ninety of them has art installations as their decor. Traveling in the subway in Stockholm is a easy and comfortable way to get around while it serves at the same time as a mobile art gallery. Buying a train ticket gives admission to explore the art and all the hidden secrets and surprises.
The devils bible
It is the largest medieval book in the world made by a monk in Bohemia. It is 620 pages and three feet large book that holds complete bible and assortment of texts about exorcism and the devil. The book is handwritten and it estimates that it took more than twenty to thirty years to complete. The book is being kept behind glass in a room that resides in the National Library of Sweden, it is a popular place to visit when having a holiday Stockholm.
R1 nuclear reactor
Underground beneath the royal institute of technology about 25 meters below is the first Swedish nuclear reactor. The reactor can be visited at special occasions and have been a popular venue for modern art and dance performances.
To rent apartment Stockholm is a popular alternative which is allowing for longer and more pleasant trips.